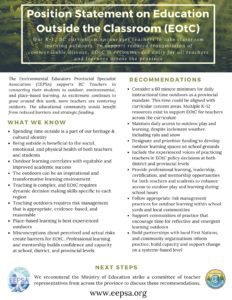 EEPSA Position Statement on Education Outside the Classroom
EEPSA Weekly Teaching Tips and Opportunities:
Environmental Learning and Experience Guide

E.E. Newsletters, Journals and Magazines
Ministry of Education Sustainability Course Content: a Curriculum Framework
Provides sustainability topic areas and possible learning outcomes related to these topics. It contains seven modules that might be used individually or as an entire course. The modules have been designed so that they can be adapted into existing or new Board/Authority Authorized courses developed by schools or districts. All content in the framework document is merely a starting point for teachers and schools wishing to offer students courses with sustainability-focused content. The document is on the Ministry's Green Schools web site.