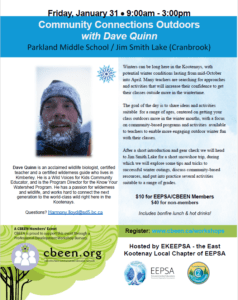 Winters can be long here in the Kootenays, with potential winter conditions lasting from mid-October into April. Many teachers are searching for approaches and activities that will increase their confidence to get their classes outside more in the wintertime.
The goal of the day is to share ideas and activities suitable for a range of ages, centered on getting your class outdoors more in the winter months, with a focus on community-based programs and activities available to teachers to enable more engaging outdoor winter fun with their classes.
After a short introduction and gear check we will head to Jim Smith Lake for a short snowshoe trip, during which we will explore some tips and tricks to successful winter outings, discuss community-based resources, and put into practice several activities suitable to a range of grades.